There are hundreds of beautiful towns and cities within the United States of America, as you already know. The city of Fort Collins, Colorado, is just another among the list of gorgeous municipalities this great country has to offer. Fort Collins is (and has been for a while now) known as Colorado's craft beer capital. It is home to countless award-winning breweries and has some of the most well-known craft breweries on the planet. 
While Fort Collins has that little reputation to boast about, it also has wonderful views and aesthetically pleasing areas scattered around it. There are over fifty parks in this city that people can frequent – that's not exactly something you'd expect in every single community. In a world where everything is becoming cyber, and where people are more inclined to stay indoors, a communal park is something that is very, very welcomed! 
In addition to the plethora of parks that are taking up spaces in the city, Fort Collins is in the process of inputting another. This new area will be adjacent to Townhomes on Vine in the northeast of the community, and it will be around five to six acres large. It will include playgrounds, restrooms, and fields for sports like soccer. If all goes to plan, it will be opened and available for public use around fall 2020.
If you're ever in town, or you're looking at taking a trip to this fabulous city, then you're probably going to be interested in heading down to a park or two. If you are, then you're spoiled for choice, aren't you! As we've stated before, there are more than enough for you to indulge in, so it's just a case of picking which one suits you (and your party) best! Of course, beauty, fun, and importance are all pretty subjective aspects, but we've put together a list of Fort Collins parks for you to look up. 
If you're more than invested in this kind of thing, then why not read on and get to know some of the places that this great city has on offer: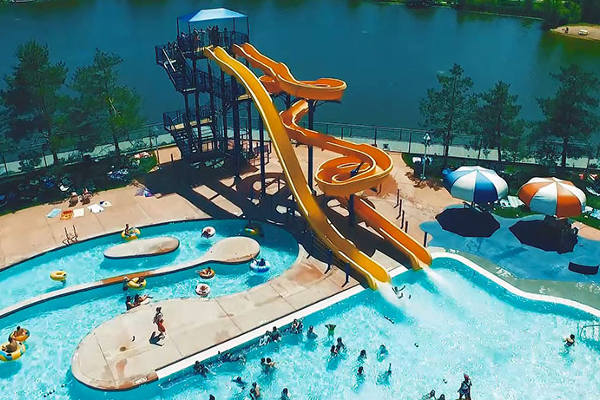 City Park 
Located at the north-west of Fort Collins, City Park is a large, beautiful area that has all kinds of activities and amenities for visitors to enjoy. When you head to a park of any kind, you wish to be greeted by fresh air and stunning views. Well, this place provides that and more. If you're looking to keep active for the day, then tennis courts, open fields, and a swimming pool are available. You can also take a walk around and see the sights.  
Fossil Creek Park 
Fossil Creek Park is a huge piece of land that spreads over ninety acres. You can imagine that there will be a lot to do here with all of that space! Located towards the south of Fort Collins, Fossil Creek Park has many different activities available for people of all ages. Baseball fields are there to enjoy, and tennis courts are around for people like fancy themselves at that! Fossil Creek has a kids' play area for any young guns that visit, too. 
Rossborough Park
A smaller area than what we've mentioned thus far, but by no means does this mean it's an emphatically inferior park. Located to the west of the city on Casa Grande Boulevard, Rossborough Park has basketball courts, playgrounds, and all kinds of other activities for individuals and families alike to sink their teeth into. 
Warren Park
Spanning over twenty-five acres, Warren Park is located near the heart of Fort Collins. It's a calming location that is home to all kinds of activities. If you're looking to bring your children to this place, then you'll be happy with the playgrounds and various sporting fields on offer. There are, of course, restrooms for everyone, and drinking fountains should they also be needed! 
Rabbit Brush Park
This park can be found in the northeast of the city. If you're ever looking for a place to relax when you have some free time, then Rabbit Brush Park will probably help you reach that level. Again, like many of the parks in this large community, there are places for sporting activities. There are also playgrounds and shelters for people to chill out in when necessary. 
Library Park
Library Park boasts a more modest four acres of land, but again, quantity doesn't always mean quality! Located in the north of Fort Collins, Library Park is a cute, little area that adds to the look of an already pretty place. You may have guessed already, but the same is due to the fact that it surrounds the Old Town Library. You can head into there, pick up a book, and, if the weather is suitable, have a little read outside in the blissful environment!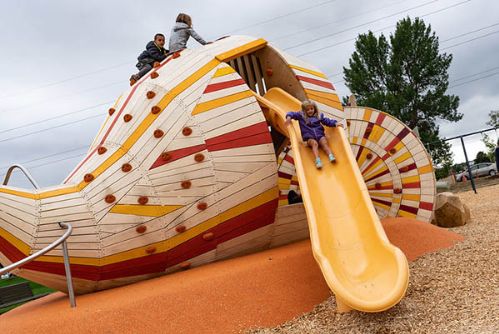 Sugar Beet Park
Sugar Beet Park is one of the newer places in Fort Collins. It was built not long ago and officially opened in mid-to-late 2019. It features a playground, a picnic shelter, basketball hoops, and a turf field. That's not all, however. The park is around five acres wide, so it can hold a lot more than that! Recently, zip line swings were installed, so that gives an extra piece of entertainment for the kids that turn up – and some of the adults, perhaps!
Legacy Park
Legacy Park isn't the largest park in Fort Collins, but it's by no means the smallest either. It's a cute, little place with many things to do, and many sights to see. It boasts a good eight acres, so there's plenty of room for activities. There are shelters, and barbeque grills around, and, if you're hoping for a lovely stroll, then you'll be able to walk alongside the stunning Cache la Poudre River. 
Rolland Moore Park
Looking for another huge surface area with lots and lots of things to do? Rolland Moore Park will have something for you. It has a bucket load of amenities, so it will be unlikely that you'll find yourself with nothing to do. There are open spaces to move around in as well as walking paths if you want to stretch your legs and explore. 
Spring Canyon 
A huge, one-hundred-acre piece of land that has plenty of things to do. Located in the west of Fort Collins, Spring Canyon Community Park has hiking trails and bike paths if you fancy an adventure. Much like most of the parks we've talked about, Spring Canyon has basket courts, tennis courts, and other sporting fields for people of all ages to frequent.